April 21, 2021
Wow! What crazy weather we are having! After a very cold February, March came in like a lamb. I think this is the earliest I have ever moved the plants from the basement to the greenhouse, and I appreciate the help from mother nature, but I did worry about this very early warming spell and I was right. Just overnight we have had a thick blanket of snow. It is quite a sight to behold, with all of the lovely lilacs and tulips bowed with puffy snowflakes, and the spring birds chirping away as though it had been a spring rain rather than a late season snow. I think it's early enough in the season that the flora will recover.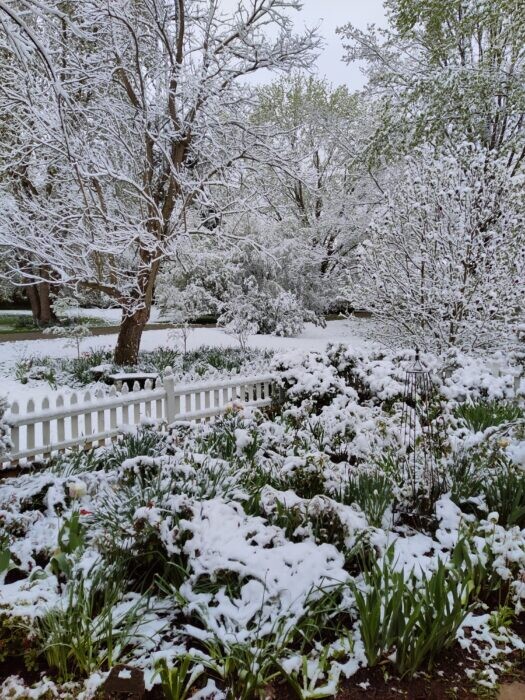 Once again my house was decorated for St. Patrick's Day and Easter at the same time. This year for Drew's St. Patty day birthday we made him a personalized cookie pyramid based on a dream he had. Megan had to execute this one. I dare say I lost my patience with the creative end of this birthday surprise. I do, however, envy Drew's dreams that seem to always be about cakes and cookies.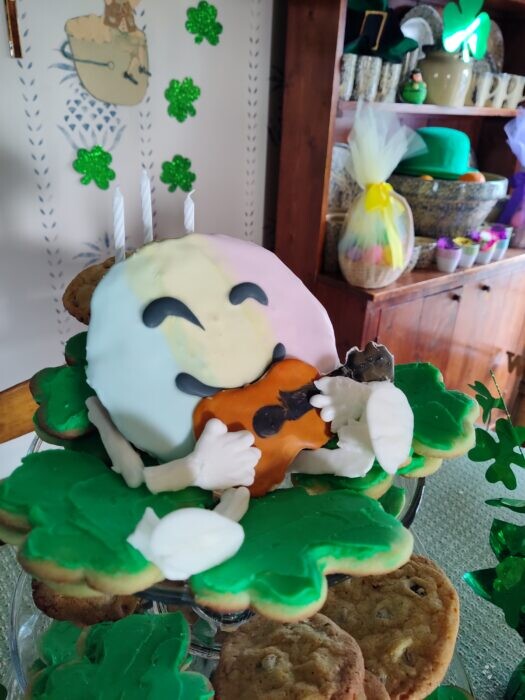 Easter arrived, my favorite holiday. Even though it's a day that always makes me giddy and silly, this year was darkened a little with some sheep health concerns. We decided to turn the sheep out on the new pasture early, whilst waiting on the soil and grass report from the lab. Unfortunately, a mistake was made at the lab with a false high reading of copper. So, you can imagine the worrying that overshadowed the Easter celebration until the following Monday morning when we learned that all was well.
One bright spot in all this up and down drama is the display of spring bulbs. They have been magnificent this year. All my hard work in November has paid off, but, of course, all the beautiful spring weather we are now having has me outside til the long hours in the evening, with not much time for anything else but early gardening. I had planned to make my mother a pineapple upside down cake for her birthday, so the snow was a welcome force to drive me indoors, but now I will have the added work of covering all the plants tonight with old sheets, because we are getting one more deep freeze. Mother Nature sure keeps us gardeners hopping. Spring marches on, though, and I am currently preparing a brooder box for the new Delaware chicks arriving on Monday. I can hardly wait!