November 19, 2020
For years I would sit and stare at my house and wonder why it didn't have that colonial feel that I so desperately have tried to achieve. We installed all the architectural details found in old colonial homes, such as chair railing, crown molding, raised paneled doors, six over six paned windows, wide pine wood floors, old style floor plan, and a raised paneled wall in the living room. Even with all these features there was something still missing. So one day Drew and I were sitting in the living room enjoying a cup of tea and he said "you know mom I think it's the furniture"! Oh my, he was right, I don't know why I didn't see it before. No matter how hard I tried the newer furniture just doesn't have the feel of old hand crafted. So Drew started showing me images of old historical homes and furnishings and we decided to recreate some of these old pieces ourselves. The first piece we made was a lolling chair or Martha Washington chair as it's sometimes called. To get a starting point we purchased the video and plans from the "New Yankee Work Shop". Using the this as a guide we constructed a new old lolling chair in the circa 1780 Thomas Chippendale with stop fluted legs, and I covered this in a striped satin fabric. The next piece we worked on was to recreate a camel back love seat circa 1770 using two sofas that we already had. We had a new love seat that had a stop fluted style legs, and an old sofa in the basement with the camel back style. We disassembled both pieces taking certain elements from each and recreated a Chippendale camel back love seat which I covered in mustard colored satin.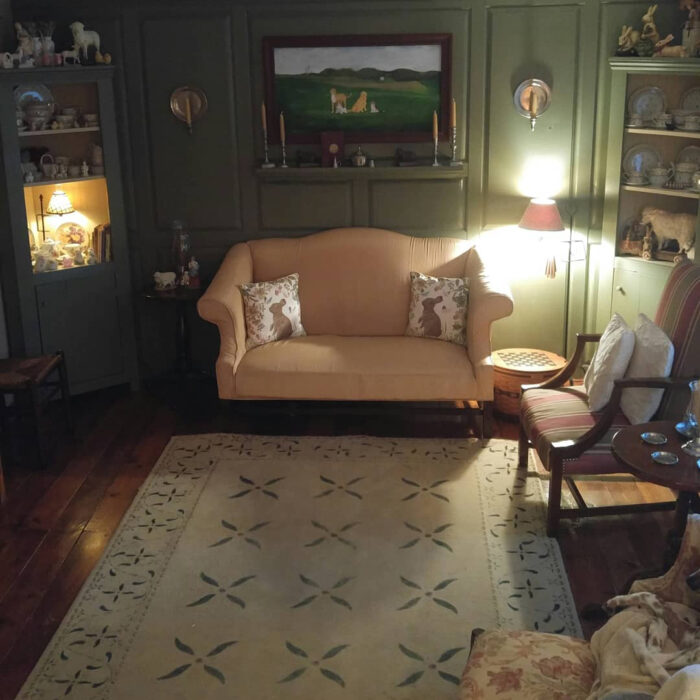 To get the various types of colonial tables my son and husband headed to the woodshop in the top of the garage and they turned out a reproduction Queen Anne 1760 tea table, a Queen Anne 1760 tilt top table, and a 1720 William and Mary Queen Anne crossover candle stand.
The piece I wanted to recreate the most was a 1750 Townsend and Goddard style wing back chair with pad feet and H stretcher made by Caleb Gardner at the Metropolitan Museum of Art. We did this by using an existing modern wing back that we already had that was a hybrid of Hepplewhite and Chippendale styles. I covered this in a fabric that resembled an 18th century tulip pattern in needle work.
Finally with all our hard work and creativity our home has that old colonial look and feel. Our furniture is not over stuffed and cushy and some would say it's not comfortable, but for me we achieved the look and feel of a true 18th century sitting room.