October 8, 2016
This week I was looking for a birthday gift for my mother-in-law.  I found a candle that smelled like pumpkin pie and I chose two flower bundles.  A local grocery store with a floral department had some of their bouquets marked down to a bargain price, yet the flowers were still beautiful.  So I chose an autumnal bouquet and a bouquet of cream colored roses.  They may be a bargain price, but the flowers are still beautiful, and I'm sure I can make them look like an expensive bouquet with just a little bit of effort.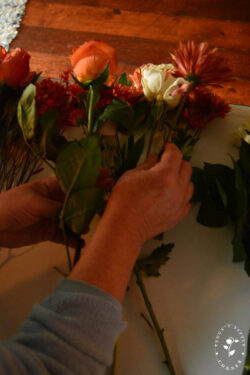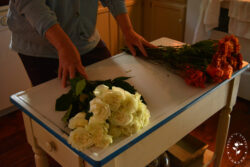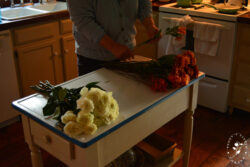 I began by unwrapping the bouquets from their packaging.  After laying both bouquets out for me to see what I had to work with, I began by layering one color after the other.   I layered orange first, then cream, then orange again, and so on, until the flowers were mixed.  The result is a bouquet that looks expertly arranged.  It's a nice trick that can work with nearly any sort of flower.  What looks like a line on the table, turns into an artistically arranged bouquet when pulled together.  So, for less than $8.00, I was able to put together a beautiful bouquet, and save a penny too.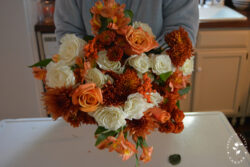 We started work on the addition to the barn this week.  I wanted to choose a design that would be in keeping with the antique charm of the original building, so I referred to a painting I have in my kitchen that has a milkhouse on the back of an old barn, with many small windows side by side.
When I was a little girl, my dad's milkhouse had a similar appearance, which gives this addition some special meaning for me.  It brings back memories of hot, sticky, summer mornings being in the milkhouse, cooling my bare feet on the cool concrete floor.  Ever so often I would lean against the huge, chilled, stainless steel bulk tank.  My dad would have the radio on that hung on the wall.  He seemed to know that it relaxed the girls.
I remember the hum of the serge milker and best of all, my dad hard at work attending each cow with a huge, swarthy, loving hand, humming to music as he would flash me a smile with those sparkling blue eyes of his.  What a lovely memory, and now, every time I look at our own three little windows, I catch myself smiling and remembering those summer mornings so many years ago.