August 13, 2016
Marty started splitting some scrap lumber to make some new benches for the front of the barn. Our old ones were a hazard to sit on, and I like to have something to sit on while up at the barn, especially if I'm keeping an eye on the sheep while they're grazing out of pasture. Around here we practice Yankee thriftiness, so no scrap of wood ever goes to waste.
This week I received a very unexpected gift from friend Linda and her husband Bob. It is a lovely homemade chicken sign, which will look perfect in my mudroom. Thanks Linda!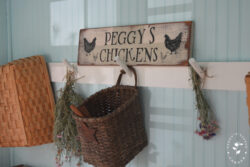 Meanwhile, I've been doing some much needed repairs on the sidewalks. Where I've expanded the flowerbed it has needed to be made more angular and a little wider than it was previously. This was fairly simple. I mixed a bag of mortar with some water and worked in the additions with my trowel and a gloved hand. I mixed the concrete extra soupy this time, because the weather is so hot, it will just dry on me before I have a chance to set my stones or clean up the edges. Using my gloved hand, much like a sculpture uses their hands in clay, I can have better control of the blending process, which will ensure that my new addition will be virtually inseparable from the old sidewalk. I use the same process for the cracks, which I find are almost inevitable in any sidewalk.


Once I have the width and shape I want, I place the stones in the newly placed mud. If you have one that kind of sticks up, just give it a shimmy until it sinks a little further in the mud. If you've got too much concrete pooling up at the sides of the stone, just take the gloved hand and do a little smoothing.
Now that I've finished the touch-ups on the sidewalk, I think that a nice low growing herb hedge would look nice along the new sidewalk edge. I think thyme will be nice, but this late in the season, it may be a bit of a challenge finding some in the garden centers.