August 20, 2016
We are drowning in summer's bounty! Tomatoes, tomatoes, tomatoes! Once again, like squirrels storing nuts, we are canning and putting away goods for the winter. Our canned tomatoes are a tasty reminder of summer in midwinter, and give us a nice alternative to the greenhouse tomatoes in the grocery stores.
Each of our tomatoes is first given a hot bath to help remove the skins. After this, we quarter them and place them in the quart sized canning jars to be filled with hot water and a teaspoon of salt. During all canning processes, lids and jar rings must first be sterilized in boiling hot water before placing them on each jar. Make sure there is no debris or liquid left on the jar rims before placing the lids, and screw the rings snugly but not tightly to allow for expansion. I process these in a hot water bath canner for 45 minutes. A successful canning will see all lids sucked down tightly. Unsuccessful canning will result in a lid that can be pushed in at the center with your finger.
We are also canning salsa, which is packed full of vitamin C, and is good for winter illnesses. The colors are red and green, which is also very festive around the holidays, and makes great gifts. The recipe is so popular that my husband keeps it on hand at work to pass out to his coworkers. See recipe section for full details.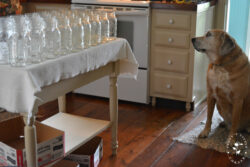 Later today, after the sun had gone behind our tree line, I took the sheep to walk in the cool of the shade. I try to keep fans around them in the carriage house, during the summer, so I don't have to give a late shearing, and they really appreciate any bit of cool they can get. While I was sitting in my new yellow chair watching them munch off my beautiful Rose of Sharon blossoms, a baby bunny decided to hop by and sit beside me. I determined I was probably sitting in his usual path to hop back home, around the base of the willow. I eventually moved, but he stayed so perfectly still, I ended up giving him a little bump with the tip of my finger. I was right. He went right to the base of the willow and disappeared. No wonder Dobby has been stomping around over there!