August 27, 2016
Once again, Marty and I have realized that we've worked our summer away.  I still have a few more repair projects to do, this time the rug.  I usually buy a $20 remnant and stencil my own pattern on it with milk paint.  I can't ever find the kind of rug I'm really looking for, and I don't really like the oil cloths that have the designs that I do like.   So, I decided to make my own rug.  The paint holds up fairly well, but once in a while it needs a bit of touching up.  I do the same for the rug in the kitchen, which is the same story.  I wanted a rug that would hold up to the elements, but continued my blue pineapple theme in the kitchen.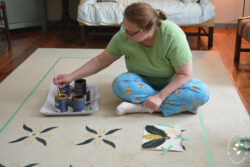 I really love the milk paint, because it sticks to the rug fibers a bit better than regular stencil paint.  It isn't as much fun on cloth, but when you paint wood with it, it is really a lot of fun.  Milk paint is based on the old method for making paint in the Colonial Era.  It paints on wood so silky smooth, and when it dries is just as soft and silky to the touch.  My own rug's palette is made with Country Red, Dark Hunter Green, Dark Mallard Blue, and Goldenrod Yellow.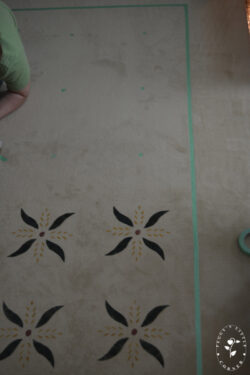 The raspberries are starting to come off the vine, and it looks like we are going to have a very good year.  Every day there is about a quart to be had, and all around the plants are butterflies.  I think I will have to dub this the beginning of the butterfly season.  From now until the end of September will be a profusion of late summer flowers, butterflies, and raspberries.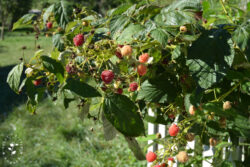 With the summer heat driving us indoors, it's time to rest in the pool, but with all the bulb catalogs in now, I'm eager to place my order.  I chose 400 bulbs this year.  I can't wait until they arrive.