July 23, 2016
Time to harvest peaches! Despite our yo-yo like weather, this spring our peach trees have done really well.  These trees were purchased from the Stark Bros. about four or five years ago.  We picked Red Havens because they will be hardy for our area.  They were also favored by our local fruit farm, whose peaches always taste so good.  In previous years, we have had a peach here or there, but this year, wow, what a bumper crop!  Now if I can get them picked before the squirrels, fox cubs, birds, and raccoons get to them first.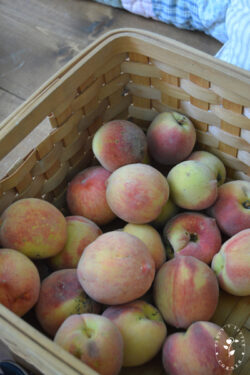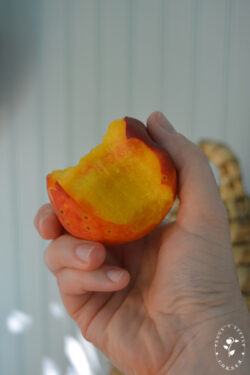 I used the opportunity of some hot July sunshine to make some basil olive oil.  We can make a nice meal out of a crunchy baguette with basil olive oil, a bit of cheese, and some fresh grapes.  I've tried different basil olive oils from the stores, but they are all so bitter, and don't taste nearly as good as the homemade oil.  I'm desperate to find another system than pouring the oil on top of the basil leaves and leaving them to sit in the sun, because in the winter, when I really want some basil infused oil, there just isn't enough sun to make it happen.  I'm thinking of trying a crock pot.  High heats really cause the basil leaves to be bitter, so I'm trying to find a technique that will avoid this at all cost.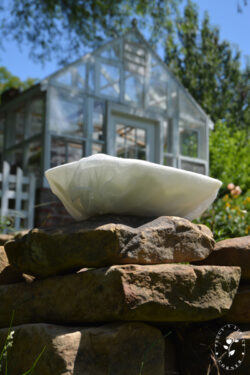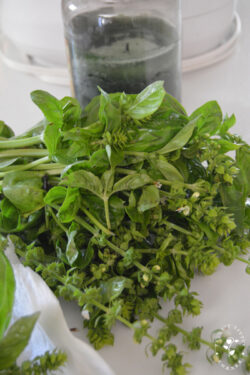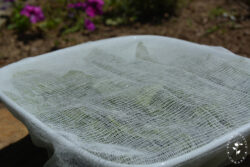 Now that the baby chicks are past their critical stage and doing well, it is time to get to know them.  This batch seems particularly friendly and acrobatic!  Little Peggy seems to be the high flier of this group.  There's always one.  I decided to put them in the grass today, but they spent most of the time climbing up my arm and nesting in my hair.  It reminds me of the little chicken poem by Jack Prelutsky that Megan copied for me years ago. It's called Last Night I Dreamed of Chickens, and the first lines go:
Last night I dreamed of chickens.
There were chickens everywhere.
They were standing on my stomach.
They were nesting in my hair.
Clearly Mr. Prelutsky was acquainted with baby chickens, because that's just what they do!
After I put the chickens away, I thought I'd give the garden the once over.  It looked like the carrot tops were well developed, so I went digging around to see what I could find.  Lo and behold, a carrot!  I dug the lot up and they look really nice this year.  Carrots are one those things like tomatoes and fresh eggs; they're cheaper from the grocery, and harder to raise yourself, but the homegrown flavor just can't be bought.  Root vegetables are also a bit like wines, the different soils they grow in affect the flavor, and even the same variety won't yield the same flavor from one soil to the next.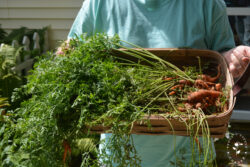 I had to place the carrots in a basket in the mudroom.  I'm really starting to like the addition, now.  In years past, the dirt from the carrots would have been sifted through the basket and onto my kitchen table.  Now they can be kept waiting for me without having to worry about who will track the dust into the living room.  The other garden goodies are also waiting there to be canned, and that's next on the agenda.  Once the tomatoes and peppers hit their stride, it's canning daily until the end of the season.