June 27, 2016
Happy birthday to me! It's been a busy week celebrating my birthday and getting ready for one of my birthday gifts, four baby chicks that were born on my birthday. They arrived Tuesday, by mail, just 24 hours after they were hatched. They are two Barred Plymouth Rocks and two Austrolorps. I've named them Dolly, Little Peggy, Aggie, and Annie respectively. This year, I've also shared this order with my friend Linda, who bought three Easter Eggers.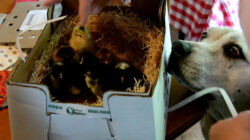 I woke very early on Tuesday. The post office always puts in an early call when the chicks arrive. I have to admit I race a little to get to them. It's the happiest sound hearing all of those baby chicks peep-peeping in the box. I can take a little more time once I have them, because I know they are all safe and sound. It is so much fun. The world is barely awake, but the little box on the seat next to you is full life.
Marty bought me a new wheelbarrow for the garden, and a new yellow yard chair made in the retro style. I loved how the old chairs like this allowed you to bounce up and down. I've been asking for one for a while now, so that I can sit comfortably with the sheep in the field.
Meg scoured the internet for an antique spinning wheel. She knows that I didn't want a particularly large one, as I didn't want it to overpower the furniture in the living room, where it would inevitably sit. I wanted something in working order but small, which is exactly what she found. This is an immigrant's spinning wheel, and appears to be made so that it could be easily disassembled for transportation.
Drew also repaired an old photograph of me with my first lamb, Marthy. The coloring had gotten so brown and faded over the years. He really had to stretch his skills to bring back the natural coloring to everything, and erased some people out of the picture so it would focus just on me and Marthy. I'm glad he has the talent to revive such things; otherwise, they might be lost for good.
Mom also made a new afghan for me, a pineapple patterned afghan made in lovely pale gold. It will match perfectly with all of the gold tones in the living room, and will be a nice afghan in between all of those lovely holiday afghans I have.
My sister also bought me a large straw cloche. I love collecting these, and it will really add to the functional feel of the new mudroom.
Taken all together, it's been a great week.