March 5, 2016
I took down the Valentine's Day decorations and put up the decorations for St. Paddy's Day and Easter.  This year is one of those years with only a week between the two, so they're sharing space this year.  That's okay; it gives me an excuse to keep up my favorite decorations, Easter, longer.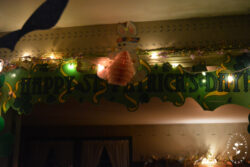 So far this year, I have had a disappointing seed starting.  I'm not sure what has happened.  The seedlings looked very healthy, then, after they reached about an inch high, with double leaves, they rotted in the soil.  I've been pouring over all of my trouble shooting books and I think the problem is it's just too cold.  I replanted the tomatoes and pepper again this week for the second time.  Hopefully they will do better this time.
Martin bought me a spring gift, two pretty half-moon shaped benches for my patio.  I can't wait to see all of the flowers behind them.  It really completes the colonial look I've been trying to achieve for a long time.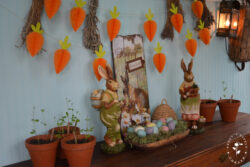 Despite the fact that all of the other plants had to be replanted, the sweet peas are growing nicely.  They even add a little something to the Easter décor that has been added to the room.
As predicted, we've had a lot of storms with high winds, which means we are ready for our March yard cleaning.