March 12, 2016
Once again our crazy weather is changing from one extreme to the other. We had another warm spell this week. Last week it was freezing. We thought we could get an early start on some spring projects, so we started building a new pool fence. We've had the same above ground pool for nearly 25 years. It's very refreshing in the summer, but I admit, at times it is a bit of a design problem. I suppose we could have put our backs to making an in-ground pool, but I see complications with owning one of those. Plus, call it stubbornness, but I am determined to find a way to make an above ground pool work with the design of the yard.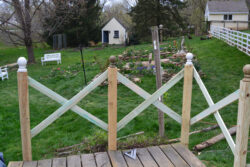 We previously had a natural looking fence made of old willow branches, but now that it is needing replaced I've decided to continue the colonial style of the house by trying a chinoiserie fence. Anyone unfamiliar with the term will probably remember all of those white benches and fences with the intricate interlacing patterns in Colonial Williamsburg and Monticello. We had previously tried our hands at dressing up some old benches we had to look exactly like those intricate designs. I'll admit; it is not for the faint of heart, or the sloppy devil-may-care worker. Chinoiserie takes precise cuts and angles and careful measurements.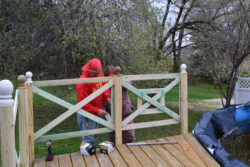 This time around we are doing the simplified version of chinoiserie for the pool. We started with treated dog-eared fence boards split into two boards and then laid out a simple cross pattern. Some ball finials on top of the posts made it look more polished. I'm pleased with the results. The pool has a nice fence that looks good against the orchard, and the pool walls are barely noticeable from all but one side of the yard. Plus the cost was very affordable.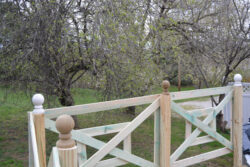 The girls were out today, taking an early dust bath in front of the barn. You can tell they're happy today because everywhere you go you hear them chattering to each other just like a bunch of old biddies. They love to walk in and around the spring flowers, almost like they're admiring them in a flower park and enjoying the scenery. They are so silly and funny to watch, with their fluffy feathered rumps bobbing everywhere.