January 30, 2016
The second round of seeds arrived this week, and finally we had our first big snow.  I always love these days when the snow is so deep that the schools shut down, very few cars are traveling on the roads, and life seems to stand still.  Outside, only the cardinals can be heard chirping, and a few drops of snow fall from the tree branches as the sun comes out to warm them.  Everything is peaceful and calm.
I always plan ahead to have some projects to work on, and days like this are usually very productive for me.  I always get a lot accomplished.  I had purchased some bolts of material several weeks ago, anticipating just such a day to snuggle in a warm house and make some new yard outfits.  I have always burned very easily, but I love to be outside all the time.  So, a long time ago, I came up with the idea of using an old medical scrub pattern I found in a fabric shop and began making bottoms and jackets in lightweight cotton.  I can pair these outfits with a lightweight T-shirt and a straw hat and be out in the sun all day.  It's a great idea for anyone like me who has had a bout with skin cancer, but still loves to garden and be outside.  It allows me to enjoy the great outdoors, and it's also a way for this 53-year-old to get as whimsical as she likes.  Some of my outfits have been made out of some very unique and zany patterns.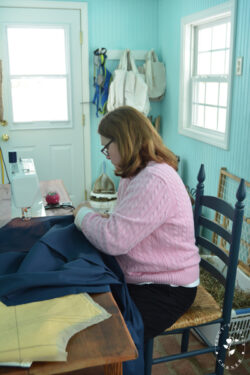 Today, it was very warm—a stark contrast to the snow we had earlier in the week.  I used this opportune break in the weather to clean out the greenhouse and carried out flats of clay pots from the potting shed to the greenhouse.  All of the seed orders have arrived now and I have sorted them all and made my planting itinerary.  I don't usually arrange every aspect of my life by the hour, but with seeds, it helps to have an organized plan, at least by the week, if not by the day.


I also got a start on delphiniums this week.  I planted the delphiniums in trays filled with dampened seed starter, sealed the trays in plastic bags, and put these in the refrigerator to begin stratification for two weeks. I must confess I have mixed success with delphiniums.  I usually get a decent number of plants from my efforts, but they are not as far along as I would like them to be.  I talked about this with the owner of my local greenhouse, Tom, and he suggested I start the seeds in July and keep them over the winter in the greenhouse.  It's a thought, but too late for this year.  I might try that next year if I'm not satisfied with the results this time.
In addition to all of the garden business, I found time to revamp some of my Easter decorations.  I always like to get an early start on each season, and take inventory before the next season's decorations go up.   As I was looking at my spring decorations, I found where a mouse had gotten into the box and did some chewing and pooping all over the decorations, and then decided to die in the box.  No doubt he was lured there by the smell of confection still lingering on the Easter baskets.  This required some new netting, bows, and grass for the baskets, as well as a thorough cleaning of the basket and eggs.
Another casualty was one of my egg wreaths that I purchased about 15 years ago.  I really like the muted color palette of the wreaths, and the eggs would be difficult to replace.  I deconstructed the wreath carefully to see how it was made.   It appears they painted the Styrofoam brown, so I purchased a new wreath form and painted it with my stencil paints.  I replaced all of the old Spanish moss with new, using the hot glue gun, and reapplied the eggs using the same toothpicks the manufacturer had used.  Once everything was in place there just remained the task of rewrapping the grape vine.  Voila, one rescued wreath.